A Brief History of the Zonta Club of: Mana
Conception took place in April 1979 when the first Board members were elected with Shirley Gay as Charter President. The first meeting was held on 7 May and the club was officially born on 3 July with the christening on 21 November at a dinner when our charter was presented by the first Vice President of Zonta International, Cornelia Hodges (shown here with Charter President Shirley and other members). Support was provided by the Wellington, Manawatu and Hutt Clubs. There were 38 members listed on the programme for the Charter dinner
The first year was busy with fund raising and establishing a structure for meeting nights, finally settling on – meeting, then dinner then a speaker or other activity. A raffle was started for internal club funds – a long standing tradition that is still maintained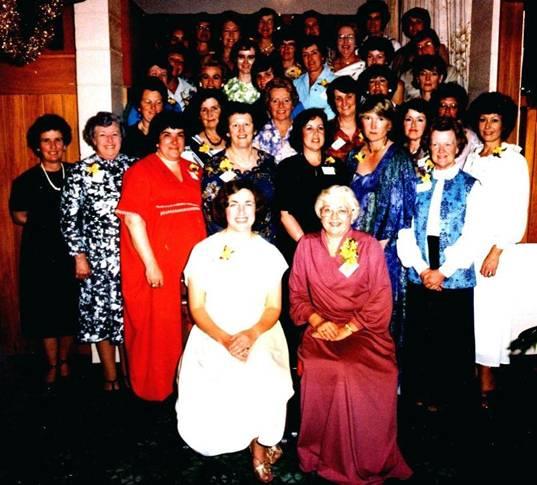 ---
1980s
The decade started with learning more about the organisation, fellowship among members and publicising Zonta in the community. Service and fund raising went well with donations distributed to many including the disabled works, camp holidays, teenage parents, Zonta International projects and the Amelia Earhart Fellowship.Read more
---
1990s
1990 saw the introduction of a membership booklet with member's details and information on Zonta – this useful item has continued yearly since then.
1992 a scholarship was started for a student from a local school going on to tertiary education – this continued for the next 10 years stopping then due to lack of interest from the schools.Read more
---
2000s
In 2000 the club entered the electronic age with the newsletters being sent out by email.
The highlight of 2000 was celebrating turning 21, with a dinner at the Porirua Club in November for members, former members, friends, partners and local dignitaries. Many of the charter members attended including the Charter president Shirley Gay and our founder Dame Pat Evison.Read more
---
2010
During this year we initiated a new scholarship for Personal Development for a student at a local school.
The first recipient was Leesa Lealai-Salana, shown here speaking with difficulty being so overwhelmed after being given the proceeds from the raffle held at a fashion show. The funds raised from the show were donated to the Women's Refuge. Following other fund raising events Leesa was awarded a total of $1300.Read more
---
2011
The year opened with the club running the registration desk at tnal
Cancer Symposium in Wellington. It was a busy week but interestin ers were able to sit in on some of the lectures.
During the year we arranged for a year's subscription to 7 magazines for the Arohata Women's Prison pre-release units – the only magazines they had access to were years old and out of date. At one meeting we collected knickers and good used bras for the women achieving a total of 100+ bras, all of which were gratefully received at the Prison. At a later meeting the Manager of the Prison was guest speaker.Read more
Compiled by Historian:  Susan Druitt and Pat Liddell