A Brief History of the Zonta Club of: Mana
Conception took place in April 1979 when the first Board members were elected with Shirley Gay as Charter President. The first meeting was held on 7 May and the club was officially born on 3 July with the christening on 21 November at a dinner when our charter was presented by the first Vice President of Zonta International, Cornelia Hodges (shown here with Charter President Shirley and other members). Support was provided by the Wellington, Manawatu and Hutt Clubs. There were 38 members listed on the programme for the Charter dinner
The first year was busy with fund raising and establishing a structure for meeting nights, finally settling on – meeting, then dinner then a speaker or other activity. A raffle was started for internal club funds – a long standing tradition that is still maintained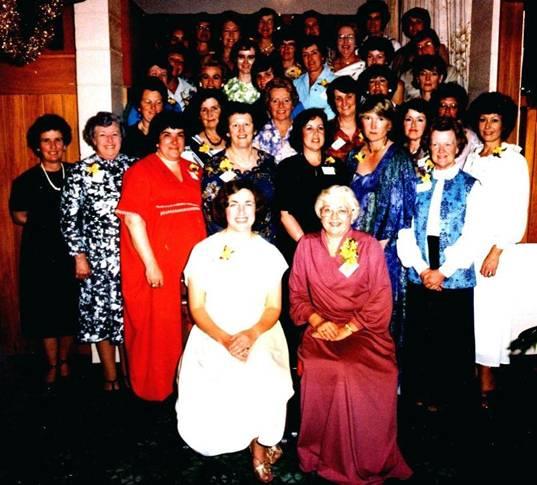 ---
1980s
The decade started with learning more about the organisation, fellowship among members and publicising Zonta in the community. Service and fund raising went well with donations distributed to many including the disabled works, camp holidays, teenage parents, Zonta International projects and the Amelia Earhart Fellowship.[read more="Read more" less="Hide"]
A seminar was organised on domestic violence, the timing of which was excellent as it was just prior to the establishment of a Women's Refuge in Porirua.
In the "International Year of the Elderly", our major service project was the purchase of hydraulic bed pumps for the Continuing Care Unit at Kenepuru Hospital. Money for three pumps was raised by organising and catering for an all-day Bridge Tournament in November. Kapi-Mana News covered the presentation of the cheque by President Helen Tunstall to Principal Nurse Sue Burrell, also a member.
One activity the Club started was writing submissions to the Government on various issues.[/read]
---
1990s
1990 saw the introduction of a membership booklet with member's details and information on Zonta – this useful item has continued yearly since then.
1992 a scholarship was started for a student from a local school going on to tertiary education – this continued for the next 10 years stopping then due to lack of interest from the schools.[read more="Read more" less="Hide"]
In recognition of 100 years of women's suffrage in New Zealand a scholarship was established at Whitireia Community Polytechnic, with Altrusa for a mature student to continue their education. This became known as the A – Z Scholarship.
Fundraisers included several fashions parades with fashions from Katie's for spring, then later an autumn & winter fashion parade, another one of yester-year fashions from the Mana Little Theatre and then a pre- loved clothing parade. We also held garden tours
some more successful than others depending on the weather and breakfasts for International Women's Day, these have been continued and are held annually.
In 1997, in conjunction with the Wellington Clubs, a successful art exhibition was organised with over 3 000 brochures distributed. The funds raised formed the seeding funding for the Massey University Design Award which has continued to be held annually.
Donations given to the various community organisations including the Women's Refuge, Plunkett, the Life Education Trust and He Hurahi Tamariki, the teen parent school in Tawa.
Fellowship among members and other clubs in the district was maintained with pot luck dinners in member's homes, theatre outings, movie nights.
[/read]
---
2000s
In 2000 the club entered the electronic age with the newsletters being sent out by email.
The highlight of 2000 was celebrating turning 21, with a dinner at the Porirua Club in November for members, former members, friends, partners and local dignitaries. Many of the charter members attended including the Charter president Shirley Gay and our founder Dame Pat Evison.[read more="Read more" less="Hide"]
In 2002 the club finally stopped many years of the wandering venue and happily stayed at this venue for the next 8 years.
2002 we organised an Art Affair, held in Pataka, Porirua's museum/gallery, the first of several. The art works by local artists were exhibited then sold or auctioned. The Art Affair was opened by Judith Tizzard and the second in 2004 by the Governor General, Dame Sylvia Cartwright.
During 2002 the club cemented an ongoing relationship with He Huarahi Tamariki, the local teen parent school with an annual scholarship of $1 000 for a student going on to tertiary education and since 2006 we have given the girls a Christmas Lunch. This
is held at a local restaurant with individual presents to their children and a guest speaker who is particularly inspiring to the girls.
This has become a very rewarding and fun project enjoyed by all.
In 2004 to celebrate the 40th birthday of Porirua City we published a Recipe Book with recipes from friends, acquaintances, celebrities and people from around Porirua.
In 2006 we successfully nominated one of our long standing members, Margaret Bailey, for a Civic Award from Porirua City.
In July 2009 the club celebrated our 30th birthday with a party attended by past and current members, family and friends.
District 16 Biennial Conference 2009 was held in Wellington and was jointly organised by our club and the Wellington club.
During this decade we have continued with the A-Z Scholarship, the scholarship at He Huarahi Tamariki and the Young Women in Public Affairs.
Service and donations of funds or items made included to the Women's Refuge, books in prison, cell phones and funds to Porirua Living with Violence organisation, the House of Grace – a home for teenage mothers and Zonta International projects.
Membership has ranged from 18 to 24.
[/read]
---
2010
During this year we initiated a new scholarship for Personal Development for a student at a local school.
The first recipient was Leesa Lealai-Salana, shown here speaking with difficulty being so overwhelmed after being given the proceeds from the raffle held at a fashion show. The funds raised from the show were donated to the Women's Refuge. Following other fund raising events Leesa was awarded a total of $1300.[read more="Read more" less="Hide"]
Later in the year we held an afternoon tea in a member's
home and sold Bags of Smiles. The lovely bags of all shapes and sizes were made by women with HIV in Cambodia artisan organisations. It was a great fun afternoon with the sale of 86 bags and our portion of the funds raised (tickets and raffle) going towards our scholarship awards. The event was repeated again in 2011 with our portion of the funds going to Look Good, Feel Better.
In October 2 members attended the Hon Luamanuvao Winnie Laban's Valedictory Speech and farewell reception in Parliament. Winnie is a long standing member of the club and Mana's elected Member of Parliament since 2002.
White Ribbon Day this year was the first National Motor Cycle Rally with the Super Maori Fellas arriving in Porirua on the Sunday at the start of a week of activities. On the Monday morning we ran a sausage sizzle for the local schools kids with visits from the
Maori Fellas – fun was had by all despite it being a bitterly cold day.
[/read]
---
2011
The year opened with the club running the registration desk at tnal
Cancer Symposium in Wellington. It was a busy week but interestin ers were able to sit in on some of the lectures.
During the year we arranged for a year's subscription to 7 magazines for the Arohata Women's Prison pre-release units – the only magazines they had access to were years old and out of date. At one meeting we collected knickers and good used bras for the women achieving a total of 100+ bras, all of which were gratefully received at the Prison. At a later meeting the Manager of the Prison was guest speaker.[read more="Read more" less="Hide"]
One of our major fund raisers since 2005 that we have participated in with Rotary is Christmas wrapping at North City Plaza in Porirua. Some of the presents can be very challenging to wrap but it is always fun and makes good conversation over a coffee describing some of the presents we have wrapped.
Another very different fashion show and on a much larger scale than previous ones was held in November – Wot to Wear and Not to Wear. The funds from this have provided the basis for a new annual Award of $3,000 which is a partnership with Whitireia Community Polytechnic design faculty – Mana Zonta Whitireia Design Award that will be first awarded at the end of 2012.
Over the years we have made many submissions to Government and other organisations covering a wide range of issues inter alia CEDAW, Code of Rights, Teen Parent Schools, the location of the new Wellington Hospital, Transmission Gully and the Green Paper on Vulnerable Children.
We have an informal arrangement of meeting for coffee on Saturday mornings at a local coffee house which goes together with our motto of "Socialising with a Purpose".
[/read]
Compiled by Historian:  Susan Druitt and Pat Liddell