A Brief History of the Zonta Club of: Christchurch South
CLUB CHARTER September 1979
The Zonta Club of South West Christchurch Area, later re-named the Zonta Club of Christchurch South, was initially organised and sponsored by the Zonta Club of Christchurch-Canterbury, under SOM Chair, Annette Prier, during the Zonta International presidency of Evelyn De Wit.  [read more="Read more" less="Hide"]Four of the thirty-seven charter members are still active members of the club. (Glen Price, Gillian Parr, Linda Nutt and Pat Campbell). The new club was chartered on 6th September 1979 as part of Area Four, District XVI. Cornelia Hodges, first vice president of Zonta International, presented the charter to Foundation President Glen Price, at the Charter Dinner held at the Old Orchard on 22nd November 1979. Charter member, Sandra Dent, was mistress of ceremonies, with District Governor-Elect, Jeanne Edgar, Area Three Director, Ann Mallinson, Jill Shiel, President of the Zonta Club of Christchurch-Canterbury, Ann Hercus MP, Malcom Ott, US Consul, Elizabeth Dessaix, representing the Australian High Commission, and Hamish Hay, Mayor of Christchurch, also in attendance. The club celebrated its 20th birthday at Latimer Lodge in September 1999, and its 30th birthday at the Chateau-on-the-Park in September 2009.[/read]
---
CHARTER MEMBERS
Glen Price President*
Neroli Kennett Vice President
Lyn Jones Corresponding Secretary
Pauline Daly Recording Secretary
Leanne Tattle Treasurer
Sheila Bailey Board
Indrani Bedi Board
Ann Stoddart Board
[read more="Read more" less="Hide"]
Thirza Hunter
Mary Kincaid
Jane Lancaster
Shelagh Mathias
Gillian Scoggins (Parr)*
Shona Thompson
Margaret Watling
Mary White
Grace Adair
Stephanie May
Barbara Barkle
Betty McKenna
Elizabeth Blain
Nicola Meikle
Mary Browne
Wyn Miller
Lexea Bryse
Patricia Campbell*
Mary Carmichael
Joan Chandler
Joan Chappell
Mary Crossman
Sandra Dent
Betty Glennie
Carole Hutcheson
Linda Nutt*
*Denotes a charter Zontian who is still a current member of the Zonta Club of Christchurch South.
[/read]
---
MEETINGS & COMMITTEES
Initial meetings were held at the University Staff Club. Since 1981, meeting venues have included Heatherlea, Elizabeth House, the Cotswold Inn, Latimer Lodge, the Canterbury Club and the Russley Golf Course Club Rooms. We hold eleven meetings per year, usually featuring an interesting speaker. We produce a monthly letter emailed to members and run a club website/Facebook page. Within the club, we have service, membership, programme and status of women/international committees. In addition, we have a committee that organises our annual Young Sports Person of the Year Awards.
---
ADVOCACY 
Members are regularly kept aware of local and International Zonta-related advocacy issues and informed about Zonta International and ZISVAW projects by the Status of Women/ International Committee. All c lub service projects are considered for their relevance to enhancing the status of women and Zonta's biennial objectives. A club representative regularly attends local National Council of Women meetings. The club frequently makes submissions, often through District 16, and sometimes directly, to government agencies, about issues affecting women , such as trafficking of women and girls and the closure of the Salisbury School for Girls.
[read more="Read more" less="Hide"]Christchurch South Zontians have also been involved with projects to support Zonta's Say No to Violence campaign, including the production of bumper stickers, and support for White Ribbon breakfasts and for Aviva Women's Refuge. Members have also demonstrated Zontian support for international issues such as the situation of women in Zimbabwe, and the release of the schoolgirls kidnapped in North Eastern Nigeria.
We have annual involvement with the UN Women breakfast and, in both 2014, when Sue Kedgely was guest speaker, and in 2015, took responsibility for its organisation. In March 2015, Lieutenant Colonel Emma Thomas, Commanding Officer and Sergeant Major Alie Henry, Regimental Sergeant Major, Burnham, the first all-female Command team in the New Zealand Defence Force, were our speakers.
[/read]
---
SERVICE & FUNDRAISNG
Early major projects included an annual fashion parade and an annual art exhibition, the latter initiated in 1981 from an idea put forward by foundation club member, Margaret Watling. Both of these projects ran for a number of years. In December 1991, after much input from member, Beverley Hair , the club initiated the Quinn's Young Sportswoman of the Year Awards. Over the past 25 years, this has developed into the annual Sportsperson of the Year Awards, a prestigious occasion, with both male and female entrants from secondary schools throughout Canterbury. In 2013, 130+ entries were received, the highest number to date submitted.
[read more="Read more" less="Hide"]A small sampling of other c lub service and fundraising projects over the years has included funding a foetal scalp monitor for the Christchurch Women's Hospital, blank tapes for the Talking Book service for the disabled, distributing Life Tubes to local pharmacists, a suitcase packing demonstration for travellers, a breast self-examination day, Jo Seagar cooking demonstrations, degustation dinners, mock interviews to assist secondary students with job-seeking, international concerts and meals, production and sale of our own hand cream, and an annual trailer sale at Riccarton Market.
In 1985, the club established its annually awarded Founders' Day Scholarship for a female student from local schools attending Lincoln University for her first year study. After coming across the idea at the Zonta International Convention in Melbourne, since 2005, the club has produced breast cushions for women undergoing treatment for breast cancer, distributed through the local Cancer Society. Christchurch South estimates that it has so far manufactured and distributed 2500 breast cushions.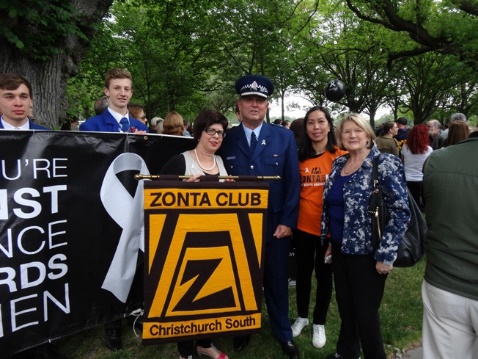 [/read]
---
THE CLUB HAS RECENTLY SUPPORTED THE FOLLOWING ORGANISATIONS WITH FUNDRAISING OR SERVICE
Alzheimers Canterbury
Autism New Zealand
Aviva-Safer Houses
Battered Women's Trust
Birthright
Camp Quality*
Endometriosis New Zealand (District Project)
New Zealand Gynaecological Foundation (District Project) Otautahi Women's Refuge
Ronald McDonald House
Christchurch Women's Refuge
Teen Parent Schools (District Project)
Woman2Woman Zimbabwe
YWCA
[read more="Read more" less="Hide"]
Christchurch Hospital (drainage bags)
St George's Hospital (breast cushions)
Christchurch Women's Hospital (knitting for premature babies)
Christchurch City Mission
Comtec*
RSPCA*
DARE Canterbury*
Dress For Success
Early Start
Forest and Bird*
Nurse Maude Association*
Pregnancy Help
Shahkti
Sumner Lifeboat*
UNIFEM/UN Women
Westpac Rescue Helicopter*
YWCA Women's Refuge
Christchurch Hospital (breast cushions) Southern Cross Hospital (breast cushions) Women's Refuge-GP services for clients.
Project Esther
Single Women As Parents.
Zonta International Projects.
* Denotes a small donation in lieu of speakers' fees.
[/read]
---
COMBINED CLUB PROJECTS
Christchurch South frequently combines with other local Zonta Clubs to work together on projects to enhance the empowerment of women. Combined club activities have included funding a dialysis vehicle for the Kidney Foundation, two celebrity debates to establish the annually-awarded Zonta International Canterbury Tertiary Scholarships, a combined Zonta donation of $5000 to the Kate Sheppard National Memorial Appeal (1992) [read more="Read more" less="Hide"]celebrating the centennial of women's suffrage in New Zealand, the Combined Zonta Clubs' Environmental Project at the Styx Wetland in association with the Christchurch City Council, the Celia Lashlie book launch at the Jade Development Centre (2002) and the Zonta Combined Scholarships' dinner to raise funds for the Endometriosis Foundation (2009).
Club members are represented on the Trust Committee of the combined club Zonta International Canterbury Tertiary Scholarship, with each Club making an annual contribution. Christchurch Zonta club presidents meet regularly to discuss issues relevant to all clubs in our region. Combined club dinners have become a regular annual event.[/read]
---
SPONSORING & MENTORING NEW ZONTA CLUBS
In 1988, Glen Price and Ann Skilling began organising a new club in Timaru as a service project of the Zonta Club of South West Christchurch Area, with the new Zonta Club of Timaru holding its charter dinner on July 5th 1989. On November 17th 1993, the charter dinner for the Zonta Club of Ashburton took place, attended by Glen Price as Chair of the Interclub SOM committee. Anne McMurtrie and other club members were also involved with the formation of the Zonta Club of Christchurch East.
---
DISTRICT 16 PROJECTS
The club has enthusiastically supported all District projects, including Teen Parent Schools, the ME Programme administered by the Endometriosis Foundation, Women's Refuge, the New Zealand Gynaecological Cancer Foundation and, currently, the Sophie Elliott Foundation. Through a connection with Christchurch South Zontian, Anne Trappitt, a relationship was formed between Zonta and the Heart Foundation for its Go Red for Women campaign. Club members participate in all District conferences, Area w orkshops and forums, with some attending Zonta International conventions.
---
DISTRICT OFFICE
The Zonta Club of Christchurch South has provided two district g overnors, Mary Kincaid 1994-1996, and Anne McMurtrie, 2010-2012. A number of other Christchurch South Zontians have also held district office. In 1983, club member, Dr Joan Chappell, was elected to the executive committee of Zonta's associated organisation, the National Council of Women. In 1984, Glen Price became a rea 4 d irector and c hair of the District Bylaws Committee. From 1990 to 1992, Mary Kincaid was area 3 Director, becoming lieutenant governor during Joan-Mary Longcroft's governorship (1992- 4) and district governor (1994-6). [read more="Read more" less="Hide"]During Mary Kincaid's governorship, Christchurch South also provided the district treasurer (Diane Blackburn), and the district secretary (Lyn Russell). As well, Anne McMurtrie was district chair of the status of women committee, while education professional, Jennifer Familton, along with Christchurch North's Eleanor Stewart, was given responsibility for district training and development. Anne McMurtrie became area 3 director (2006-8), lieutenant governor for the 2008-2010 biennium and district governor (2010-2012). Anne McMurtrie is currently district c hair for the Jane MKlausman Award (2012-2016). Others who currently hold district office include Wendy Almond, area 3 director, Marilou Crequer, district public relations chair, and Jennifer Loughton, district historian and district archivist.[/read]
---
INTERNATIONAL
Glen Price has been a member of the International Resolutions Committee (1980-82) and of the Bylaws/Resolutions Committee (1982-84). Dr Joan Chappell represented Zonta International at the International Federation of University Women's Conference in 1986. In 1985, the Zonta Club of Christchurch South nominated Val Sarah (Ballarat, Australia) for the office of international president and Jeanne Edgar (Christchurch-Canterbury) for the International Nominating committee. [read more="Read more" less="Hide"]Christchurch South took its own handcream to sell at the Zonta International convention in Melbourne in June 2006. As part of District 16, Christchurch South members were earlier twinned with District 20 and with District 12 Zontians. Mary Kincaid also became a member of the International Nominating committee. Anne McMurtrie was a member of the Zonta International Nominating committee (2012-2014). We also maintain links with other Zonta clubs worldwide through personal encounters at conventions, by contacting Zonta clubs while travelling, and by meeting and hosting Zontians visiting Christchurch. In 2013, we hosted, Amelia Earhart Fellow and Zontian, Eva Geerlings, Freiburg, Germany, and in 2014, Suzi Feickert, Houston, Texas.[/read]
---
CHRISTCHURCH EARTHQUAKE
In 2012, in a true example of Zontian sisterhood, the combined Zonta clubs of Auckland came to the assistance of Christchurch Zonta clubs, then implementing planning for the District 16 Conference in Christchurch, by organising and hosting the Christchurch District Conference in Auckland. It had become obvious that on-going earthquake after-shocks and a shortage of accommodation would make it impractical to host the conference in Christchurch. The 2017 District Conference is again scheduled to be held in Christchurch.
---
LIST OF CLUB PRESIDENTS 1979-2014
Glen Price 1979-1980
Neroli Kennett 1981-1982
Sheila Bailey 1982-1983
Lyn Russell 1983-1984
Gillian Scoggins 1984-1985
Mary Kincaid 1985-1986
Jane Lancaster 1986-1987
Linda Nutt 1988-1989
Elaine Mayo 1989-1990
Ann Skilling 1990-1991
Lyn Russell 1991-1992
Diane Blackburn 1992-1993
Pat Campbell 1993-1994
Jennifer Familton 1994-1995
Anne McMurtrie 1995-1996
Bev Hair 1996-1997
Norma Hancock 1997-1998
Elizabeth Mathias 1998-1999
Jocelyn Johnstone 1999-2000
Pat Hopping 2000-2001
Linda Nutt 2001-2002
Cheryl Moffat 2002-2003
Pam Brian 2003-2004
Pam Brian 2004-2005
Shona Steele 2005-2006
Chris Mathews 2006-2007
Wendy Almond 2007-2008
Wendy Almond 2008-2009
Simonette Boele 2009-2010
Pam Brian 2010-2011
Jan Fortune 2011-2012
Marilou Crequer 2012-2013
Marilou Crequer 2013-2014
Marilou Crequer 2014-2015
---
ZONTA CLUB OF CHRISTCHURCH SOUTH INC. SOME OF THE FUNDS DONATED FROM 1980 – 2014 
Abuse Prevention $14400
New Hope Group – Rotary Hoe $200 Afghanistan Appeal $1403
New Horizons for Women Trust $250
Aged Peoples Welfare Council – piano $800 Niger Project $962
Amelia Earhart $10968
NZ Gynaecological Foundation $1700
Angel Fund $500[read more="Read more" less="Hide"]
Olive Brown – Books Remedial Reading $200 Arthurs Pass Correspondence School $500 Plunket $3000, Australian Bush Fire Appeal $130 Pregnancy Help $2000
Autism NZ $150
Princess Margaret Hospital – Endoscope $1600 Aviva Safer Homes $3700
Project Five-0 $703
Barnados Home $150
Ronald McDonald House $4620
Battered Wives Support Group $380
Rose Fund $15766 ,Blind Foundation $500 Salvation Army $396
Canterbury Children's Theatre $15
Self Help Health Care $102
Canterbury Public Library – Talking Books $500 Sewing Machines for Afghanistan $450 Canterbury Sheltered Workshops $935
Shakti $430
Cardio Thoracic Trust $2000
Southern Ballet Theatre $250
Champion Centre $550
Special Olympics $50
Christchurch City Mission $4000
Spirit of NZ Charter Club $500
Christchurch Youth Brass Band $500
Stroke Foundation $500
Combined Clubs Tertiary Scholarship $14025 Supergrans $2964
COPE – Parent Education $300
Teen Parent College $950
Coronation Hospital – Umbrellas & Tables $213 Toy Library for the Handicapped $150
CCS New Zealand $425
Tsunami Appeal $500
District 16 Kakahu $287
UN Mock Assembly $225
Early Start Project $3500
Unifem $6304
Endometriosis NZ $3578
WEA Adult Literacy $1000
Epilepsy Society – 2 Heaters $360
Wells in Sri Lanka $965
Founders Day Scholarship $31250
Wheels for Ghana $22
Ginkgo Tree $54
Women 2 Women Zimbabwe $5000 Glenelg Health Camp- Toys $2270
Womens Refuge $4619
Hei Hei Greenfi Community Dev $42
YETI Expedition $350
ICCI – refugee & migrant group $200
YMCA Holiday Camp Trust $3365
IHC $500
YWCA $300
IHC Early Intervention Programme $1050 YWPA $2700
Liberia with UNFPA $1500
Z I – Colombian Urban Slum Project $900 Lincoln College Creche $50
ZI Building Fund $1364
Marriage Guidance Council $5500
ZI Service Fund $1300
Mona Vale $3111
ZISVAW $304
Morrisons Childrens Home $1000
Total $178,257[/read]
Compiled by Historian:  Jennifer Loughton (District Historian), Marilou Crequer, Sue Clark and others.