District 16 (New Zealand) History

Over the last 50 years, District 16 has evolved from a small gathering of Auckland women who took a brave 'leap of faith' into the world of Zonta in 1965 to the election of Wellington Zontian, Lynn McKenzie, as Zonta International President for the 2012-2014 biennium.
ESTABLISHMENT OF ZONTA IN THE SOUTHERN HEMISPHERE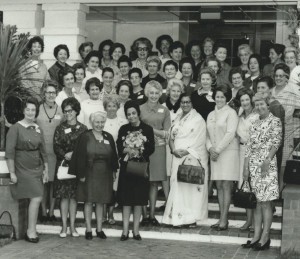 1965-1973
With its Charter issued on November 15th 1965, the Zonta Club of Auckland, organised by remarkable Toronto Zontian, Dorothy Thompson, was established as the first New Zealand Zonta club, with Cherry Raymond elected as Charter President and Anne Gambrill as Treasurer. Current Auckland Zontians, Joan-Mary Longcroft and Lillian Chrystall, were also Charter members.
Dorothy Thompson also helped to establish Zonta clubs in Wellington, (1969), Hamilton, (1970), Christchurch (1970) and Dunedin (1970).
In 1973, Cherry Raymond , Regional Representative, organised the first Regional Conference in Auckland.
1974-1989

Australian and New Zealand Zonta clubs were formed into District XVI at the Zonta International Convention in Boston in 1974, with Dr Judith Dey (Sydney) installed as the first District Governor (1974-1976) followed by Beverley Shore Bennett (Wellington), the first New Zealand District Governor (1976-1978).
At the second District Conference in Wellington in April 1977, District XVI was divided into four Areas with Valerie Webster (Hawke's Bay Area) and Ann Mallinson (Wellington) appointed as the first New Zealand Area Directors.
Until 1990, Australian and New Zealand Zontians worked closely together and shared an alternating governorship. The organisation of the Zonta International Convention in Sydney in June 1984 became a major District XVI responsibility, with Jeanne Edgar appointed as New Zealand co-ordinator. The Convention saw the formal introduction of the Zonta Rose.
1990-2016
At the District Conference in Auckland in 1989, Governor Susan Laidlaw oversaw the division of District XVI into three smaller Districts, with New Zealand, now District 16, retaining the original name in recognition of its foundat
ion status. Cherry Raymond, Charter President of the Zonta Club of Auckland, became the first District 16 Governor from 1990-1992.
The current District 16 Governor is Janet Hope QSM, (Hibiscus Coast) 2016-2018.
 Prepared by Jennifer Loughton, MA Hons. History, District Historian and Archivist, (Christchurch South)
See More
Selection of Photos from Across History[read more="Read more" less="Hide"]
[/read]New Zealand Zonta Clubs in charter date order (Includes all clubs current and historic, listed together)[read more="Read more" less="Hide"]
Auckland: (1965), Wellington (1969), Hamilton-Waikato (1970), Christchurch-Canterbury (1970), Dunedin-Otago (1970), Manawatu (1975) Hutt Area (1976), Auckland West (1976), Bay of Plenty (1977), Christchurch North Area (1977), South Auckland (1977), Nelson Area (1978), Tokoroa-Putaruru (1979), Mana Area (1979), South West Christchurch Area (1979), Auckland North Shore (1979), Wanganui (1980), Auckland 2, (1984), East Auckland (1986), Tauranga Area (1988), Timaru (1989), Hibiscus Coast (1989), Bay of Islands (1991), North Canterbury Area (1991), Port Nicholson (1992), Thames Valley Area (1992), Hamilton-Waikato 2, (1992), New Plymouth (1992), Hatea-Whangarei (1993), Ashburton (1994), Christchurch West (1994), Marlborough (1995), Christchurch East (1996), Metropolitan Dunedin (1997), Waimakariri (2002), Oamaru (2008) , Mangawhai (2010).[/read]
International Representatives/District Governors[read more="Read more" less="Hide"]
Area III Observer: Dr Joyce Fildes OAM. (Canberra) 1970-1972.
Regional Representative: Cherry Raymond QSO. (Auckland) 1972-1974
District XVI Governors:
Dr Judith Dey AO.(Sydney) 1974-1976
Beverley Shore Bennett MBE (Wellington) 1976-1978
Elizabeth Todd (Sydney) 1978-1980
Jeanne Edgar QSM. (Christchurch-Canterbury) 1980-1982
Leneen Forde AC, (Brisbane) 1982-1984
Valerie Webster (Hawke's Bay) 1984-1986
Val Sarah AM, (Ballarat) 1986-1988
Susan Laidlaw JP. (North Canterbury) 1988-1990
District 16 Governors:
Cherry Raymond, QSO. (Auckland) 1990-1992
Joan-Mary Longcroft QSM. (Auckland) 1992-1994,
Mary Kincaid (Christchurch South) 1994-1996
Joan Ready (Auckland) 1996-1998
Jean Corbin Thomas MNZM. JP. (Manawatu) 1998-2000.
Jan Bowman MNZM. (Auckland) 2000-2002
Lynn McKenzie ONZM. (Wellington) 2002-2004
Maxelyn Tudman (Auckland North Shore) 2004-2006
Lynette Grave (Metropolitan Dunedin) 2006-2008
Anne Walker (Manawatu) 2008-2010
Anne McMurtrie (Christchurch South) 2010-2012
Maureen Heine (South Auckland) 2012-2014
Janette Irvine (Rotorua) 2014-2016
Janet Hope (Hibiscus Coast) 2016-2018 [/read]
Regional and District Conferences[read more="Read more" less="Hide"]
Canberra (1969)
Auckland (1973)
Perth (1975)
Wellington (1977)
Melbourne (1979)
Christchurch (1981)
Brisbane, (1983),
Rotorua (1985),
Adelaide (1987)
Auckland (1989)
Wellington (1991)
Christchurch (1993)
Dunedin (1995)
Whangarei (1997)
Wellington (1999)
Christchurch (2001)
Wanganui (2003)
Auckland (2005)
Dunedin (2007)
Wellington (2009)
Auckland (2011)
Queenstown (2013)
Rotorua (2015)[/read]
Zonta International Conventions attended by New Zealand Zontians[read more="Read more" less="Hide"]
Portland (1972)
Boston (1974)
Wiesbaden (1976)
Denver (1978)
Washington (1980)
San Diego (1982)
Sydney (1984)
Toronto (1986)
Helsinki (1988)
Dallas (1990)
Hong Kong (1992)
Detroit (1994)
St Louis (1996)
Paris (1998)
Honolulu (2000)
Gothenburg (2002)
New York (2004)
Melbourne (2006)
Rotterdam (2008)
San Antonio (2010)
Torino (2012)
Orlando (2014)
Nice (2016)[/read]